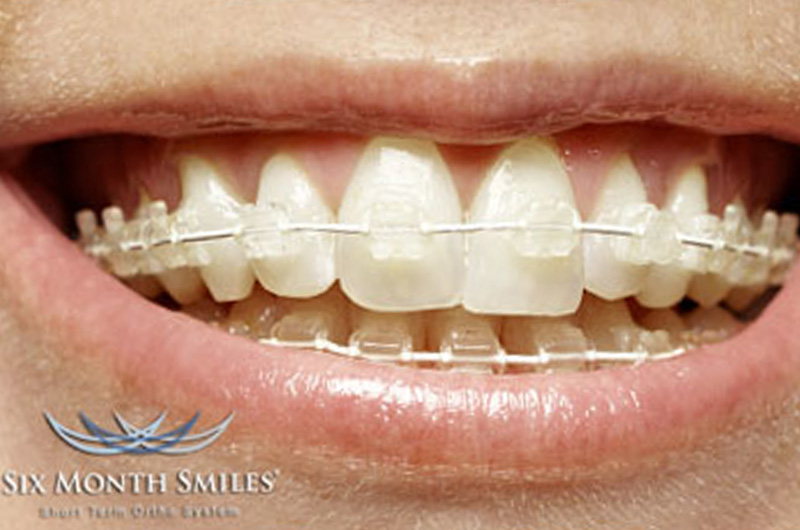 Gently move your teeth in about six months
With Six Month Smiles braces, you can straighten your teeth quickly, comfortably, and discreetly. This innovative new technique uses clear braces to gently move your teeth in about six months. Dr. Burchell can help you straighten, beautify, and renew the appearance of your smile with this advanced procedure.
While traditional braces are effective at straightening teeth and correcting misalignment issues, they have some significant drawbacks. Traditional braces are metal with metal wires which make them very visible on your teeth. This can make people very self-conscious. Plus, the braces need to be worn for at least a year, and more often, two years.
Six Month Smiles is a state-of-the-art procedure that eliminates these issues while giving you the results you want for a healthy beautiful smile. They are much less noticeable on the teeth, and are more comfortable in comparison to traditional braces. Best of all, it corrects and straightens the teeth in less time!
Benefits of Six Month Smiles include:
Braces are clear and the wires are white and blend into your natural teeth
The braces gently reposition your teeth
It takes typically only six months to achieve the desired results
Often this procedure is less expensive than traditional braces
It can correct issues of teeth crowding, gaps, spaces, misalignment
Dr. Burchell will meet with you for a FREE consultation and help you determine if Six Month Smiles braces is the right option for you. With this advanced procedure, you can achieve successful results comfortably and in much less time.
Call or email us today to set up your FREE Six Months Smiles consultation!