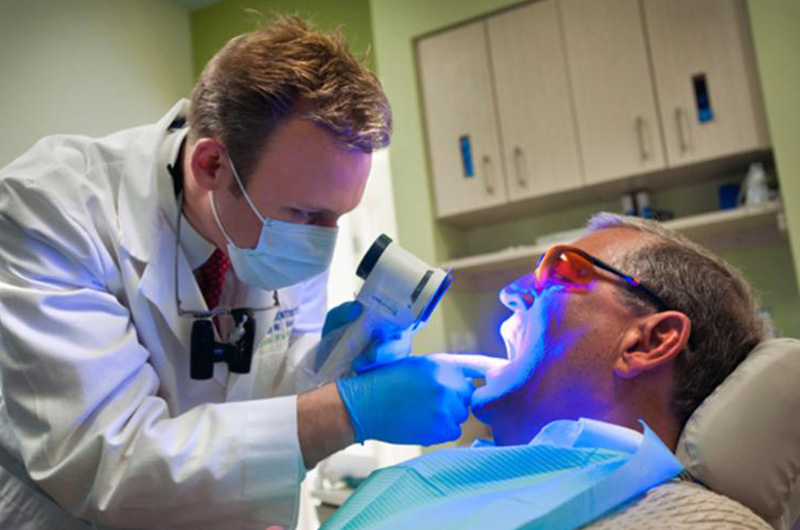 Early detection is key to beating oral cancer
Every adult and young adult should receive an oral cancer screening. Especially those who fall into the high-risk category. Risk factors include tobacco use of any kind, heavy alcohol use, excessive sun exposure to the lips, and a sexually transmitted virus called human papillomavirus (HPV). Early detection is key to beating oral cancer, and as with any cancer, the earlier the detection, the higher the survivor rate.
We use the most current technology in our oral cancer screenings. VELscope® Vx Enhanced Oral Assessment System is a handheld scope that uses natural tissue fluorescence to enhance oral mucosal abnormalities that might not be apparent or even visible to the naked eye to examine your lips, cheek lining, gums, front part of your tongue, floor of the mouth beneath the tongue and the hard and soft palate that makes up the roof of your mouth.
Recognized by the World Health Organization, the award-winning VELscope® Vx is the world's most widely used adjunctive device for the enhanced visualization of oral mucosal abnormalities, such as oral cancer or pre-malignant dysplasia. And best of all, this exam can be performed during your routine dental visit.
At Oldsmar Dentistry, our goal of oral cancer screening is to identify mouth cancer early, when there is a greater chance for a cure.  Contact us today for an appointment. We look forward to keeping those smiles healthy, beautiful, and bright.