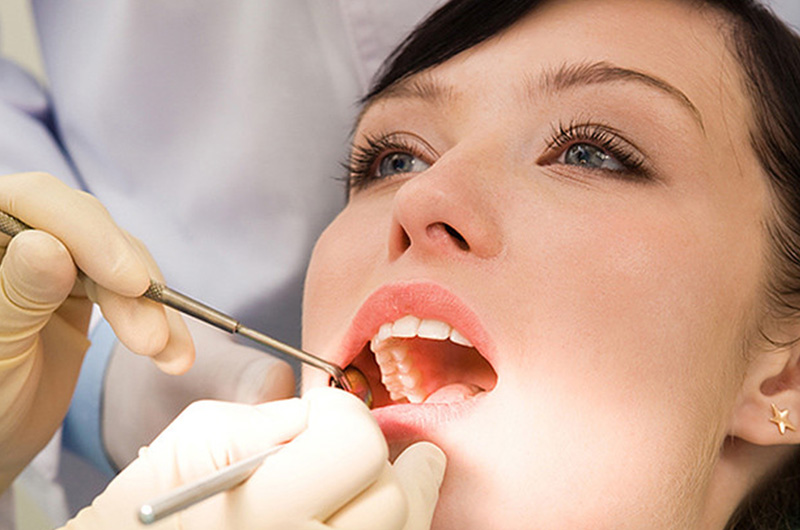 Comprehensive Oral Exam are important to your over-all health
The American Dental Association recommends a comprehensive dental exam for all patients that are new to a practice. For established patients (those who are already in the practice) a full comprehensive exam is recommended every three years. After a comprehensive exam is completed, a periodic exam is recommended every 6 months.
The American Dental Association defines a comprehensive oral exam as an extensive evaluation and the recording of all extraoral, intraoral and soft tissues. This exam is to determine any changes in dental and health status since a previous comprehensive or periodic evaluation. A comprehensive exam is much more than just a check-up.
The mouth is a window into the body.  Medical conditions may be discovered by a comprehensive dental exam before symptoms show up elsewhere in the body.
Some examples are:
Diabetes: (especially with poorly controlled or undiagnosed diabetes) Dry mouth, Increased dental problems such as infections and periodontal disease are found in diabetic patients.
Cardiovascular problems: Patients who suffer from gum and bone disease (periodontitis) can raise your risk of heart disease.
Oral cancer: An oral cancer exam is done on all of our patients! We check the lips, gums, tongue, floor of the mouth, the cheeks and the palate.
Sinus problems: If you suffer from sinus problems or infections, a toothache can be common. With a routine dental exam and x-ray we can rule out a tooth problem as the cause of the pain.
By doing a comprehensive exam, together we can devise a strategy for long-term health and comfort. From staging appointments for cleanings and fillings to Full-mouth reconstruction cases.
During a comprehensive oral exam, you'll receive diagnostic as well as any needed educational information
Diagnostic and educational services may include:
Reviewing and updating medical history, including information about heart problems, pregnancy, diabetes and medications (which may have an impact on your oral health)
Oral cancer screening
X-rays to detect decay
Tooth brushing and flossing instructions
Nutritional counseling
Recommendations for future treatment: when to return for follow-up hygiene treatment, periodontal (gum) concerns or restorative options
Evaluation of self-care effectiveness
Tobacco-cessation counseling
Contact us today for a consultation. We strive to provide the exceptional dental care and personal touch that lead to lasting relationships. A smiling patient is our greatest reward and we look forward to keeping those smiles healthy, beautiful, and bright.